Beware of Scams and Internet Fraud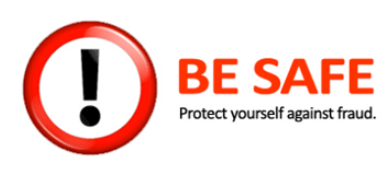 Daft.ie strives to provide a safe online community. However, you should always be vigilant and wary of giving out your personal information, financial information, passwords or payments of any kind to people you haven't met or verified.
Important: If you find a suspicious listing on Daft.ie, please report it by clicking the "Report Ad" button below the photographs on each listing. Alternatively - email support@daft.ie listing all the details, including email addresses and any correspondence exchanged.
What are the common scams involving rental accommodation?
Meet-and-Greet scam
After you've found a place you're interested in, made contact with the advertiser and viewed the property this scam begins to unfold. Generally you will be requested to pay a deposit of one or two month's rent upfront in cash and in return for this you will be given the keys. When you turn up at the property you discover the keys won't work and the advertiser is no longer contactable. You may also arrive at the same time as other "tenants" who were equally duped into parting with cash for a set of keys that won't work from the advertiser.
Email deposit scam
The email deposit scam is similar to the meet-and-greet scam. However, instead of meeting with a landlord you liaise with the fraudster via email regarding the rental property. They will ask you to pay a deposit and/or a months rent ahead of a meeting or in return for this they will promise to forward you a set of keys. They may also ask for your ID to add a veneer of authenticity. Once you transfer your money they will become uncontactable and will use your ID for other fraudulent activity. The best way to protect yourself is to familiarise yourself with the red flags for scams so that you can easily spot them. You can also read more on the Consumer Help website. Whether you are a tenant looking for a house or apartment to rent, a student looking to rent-a-room or a landlord looking for a new tenant, here are our top tips on how to avoid getting scammed.
Red Flags for Scams
Long-distance Landlords:
Be vigilant if the user you are interacting with appears to be in a foreign country and claims to be interested in renting out or buying a home.
Requests for wire funds via Western Union or other Electronic Fund services:
Scammers want your money. Scammers will create convincing reasons as to why they need to deal remotely.
Users claiming to work with or for Daft.ie:
Daft.ie does not handle money exchanges between users on the site
Sob Stories:
Users who impart details of familial or financial issues need to be treated with caution, especially if such information is imparted as a reason to not personally meet you or to acquire money.
Typos:
Emails/listings filled with grammatical errors are usually an indicator of fraud. Be wary of such communications.
Reporting Scams:
If you are suspicious of a listing on Daft.ie please click the "Report Ad" beneath the photographs on each listing and our internal team will investigate as a matter of urgency.
Likewise, if you receive emails or messages from users who you suspect of attempting to scam you email support@daft.ie listing all the details, including email addresses and any correspondence exchanged.
If you believe you have been scammed, report the incident to local Garda station and give them details of the scam. Also email support@daft.ie listing all the details, including email addresses and any correspondence exchanged.
When reporting scams, include as much as possible of the following: the name and address of the email sender, the senders location, the date and amount of the transfer, the transfer fee, the date and actual location of the money order receipt, the name of the receiver, any information recorded regarding the receiver's identification, the reference number for the transfer, and the details of the nature of the issue.
Our Top Tips
NEVER

respond directly to an email address provided via the description or photographs of an ad. Email replies should be sent via the Contact Advertiser form on the site only.

DO NOT

enter your log in details anywhere other than https://www.daft.ie/my-daft/?auth[login]=1

NEVER

transfer funds via Western Union, Moneybookers or other Electronic Fund Transfer services.
Always remember, it's your money, so if you get a bad feeling, walk away. The website http://www.internetsafety.ie is the authoritative source of free, up to the second information and advice about how to keep safe and secure online.
Example of a Scam
How it works:
You spot a listing on Daft.ie that is a great price for the location but the Landlord is located in a foreign country. They'll happily rent the place to you, just send them a deposit and you'll get the keys.
Top Tip:
Don't send the money. If it looks too good to be true, it probably is. The place probably isn't even on the market and you won't have an opportunity to view it or meet the landlord before handing over your cash.
        Hello,

        I just read your e-mail regarding my apartment. It has 2 bedroom, 1 bathrooms, 1 kitchen and
        1 living room. I bought this apartment with my husband because we worked in Ireland 5 years
        in domain of (Gas Company) but we come back in Czech Republic because we have (two girls, 1
        and 2 years) and we working very much time and my mother help a lot with children. So I'm
        renting the place for unlimited time.  Before we go any further I would like to know a little
        something about you, like how many persons you intend to live in the apartment, and for how
        long.

        The flat is exactly like in the pictures, fully furnished and renovated. Also, very important,
        the utilities (cold/hot water, electricity, wireless broadband Internet, digital TV, 1 parking
        spots, dishwasher, garbage disposal, microwave, refrigerator, washing machine, etc.) are INCLUDED
        in the price of rent. "security deposit is also same price of rent, and you get it back, when
        you decide to leave the apartment (you will have to give me at least 30 days notice). As for
        me, you can rest assured that I will never ask you to leave the apartment. You can use my
        furniture, or you can also use your own if you prefer. If you decide to use yours, you will
        have access to a very large and well ventilated cellar, where you can store my furniture.

        Now, a little bit about myself so we can get to know each other better. My name is Maren Becker
        and i have 37 years and i work at Gas Engineer from Czech. I tried to work more time in Ireland,
        but i feel very guilty because I let my husband so I make the right decision to leave my job
        in Ireland and everything behind me and go back to my family, I have learned that money is not
        the most important thing in Life.

        If you decide to rent i will deliver the keys of apartment directly at your home. I plan to
        involve a company that offers services of export / shipment to your home.

        Of course the shipping cost will be paid by me.

        Feel free to contact me with all your questions so i can give more information about the
        apartment and how the process will work. I offer and expect 100% seriousness!

        Looking forward to hear from you soon.

        All the best from Czech!
        Family Becker